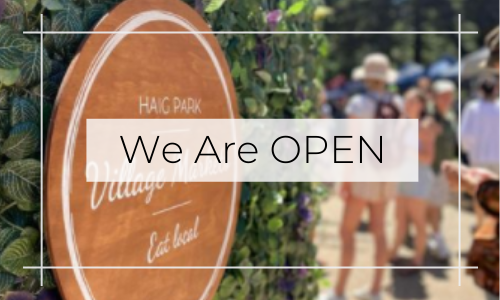 We are OPEN during lockdown!
We are open for the extended lockdown on 12 & 19 September as an essential service. The markets will be a reduced version to fresh food and groceries only.
As an open air market we will have our Covid Safe measures in place to ensure the safety of all attendees. Please come get your essentials and leave after purchasing.
We are providing an opportunity to shop for your needs in an open air environment and not inside. As an essential food service, where you can purchase your fruit, vegetables, fresh food and groceries like a supermarket, we will remain open in accordance with ACT Government guidelines. We take the situation very seriously, please ensure if you choose to attend the following are observed:
• SHOP AND GO
• Masks are mandatory
• Mandatory check in via CheckIn CBR
• The market is not for socialising, please purchase your items and move along
• Do not attend if you have any symptoms or feel unwell
• Food and beverages not to be consumed on premises, takeaway only
• Do not browse and only handle the produce you intend to purchase
• Please follow all directions from staff, they are there to maintain safety
• Maintain social distancing at all times
We thank all our shoppers for continuing to support and adhere to the current guidelines.